Makadi Palace Hotel, Makadi Bay
Every Christmas Barbara and I take our grown-up family away for a week's holiday. This started when the kids were in their late teens and "Christmas" for us usually took the form of Christmas dinner spent with the kids who then subsequently disappeared with their pals leaving Barbara and I to wash up and watch the dismal offerings on "Christmas TV".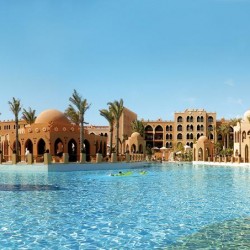 Makadi Palace Hotel, Makadi Bay
So a few years ago we thought that if we offered to take them on holiday over Christmas it would mean that they would spend a lot longer with us and we'd have some really great "family time". A little selfish I know but it worked and we've been doing it for over 6 years now. It does cost us a "few bob" but it's been worth it for the memories we've created for us all.
For the first 6 years the "kids" (now 31, 26 and 22) chose skiing and we've had some wonderful holidays in France, Andorra and Bulgaria amongst other places. However this year, for a change, the family decided they'd like some warm sunshine instead of snow. As I'm not a fan of long haul flights, (I go potty sitting in the same place for hours on end) it ruled out destinations such as the Caribbean and the Far East. We also knew that destinations like the Canaries certainly wouldn't' guarantee temperature much above the late teens so eventually we decided on Egypt as the perfect solution.
For one thing we knew that the average temperature on the Red Sea over December was likely to be in the mid 20's. We also knew we could choose from some excellent hotels and resorts and, more importantly, I wouldn't' be subject to a flight of 9, 10 or 11 hours duration as reaching Egypt takes only 5 hours.
Also, deciding on Egypt meant that we could add to our knowledge of the country and it would be a great help when we speak to our potential customers.We sell a lot of Nile cruise and Red Sea holidays where clients enjoy a one week Nile cruise followed by a further week at a Red Sea resort.
So this would give us the opportunity to chose a resort and property that we hadn't visited before. So that ruled out a lot of places. We also had to take into account that our kids have travelled to Egypt by themselves and they did not want to go back to a resort that they'd already visited.
So after a few days of looking at all of the destination options open to us we choose Makadi Bay and the Makadi Palace Hotel.
We were thinking of El Gouna as we send so many of our clients to the excellent hotels there but my eldest daughter had spent 2 weeks there last year and she wanted somewhere new. So as none of us had been to Makadi Bay it seemed the obvious choice. Plus the weather reports suggested that the temperatures would be good over Christmas week.
As one of our party is also a mad kite-surfer Makadi Bay was the perfect choice as it's one of the best spots in the world for kite-surfing.
So it was that on the 21st of December we arrived at the Makadi Palace Hotel around 6.00pm. It was dark so that even though the hotel looked lovely we had no idea what the grounds or layout looked like in daylight.
Tomorrow I'll tell you how delighted we were when we woke and opened the curtains and looked out….