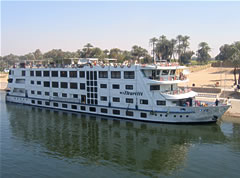 If you are looking for a real bargain on a Nile Cruise price then there are two dates that are selling for just £399 on the MS. Fleurette.
Just £399!!  We are selling Nile Cruises for over £2000 per person, so if you have a limited budget at the moment or you just want to have a "taster" of what a Nile Cruise entails then £399 is for nothing in comparison.
The Fleurette is a 4 star ship, so you need to keep that in mind, but we have had a recent testimonial from Wing Commander Wheeler and his wife who travelled a month or so ago and he really enjoyed his cruise on the Fleurette.  You can find Wing Commander Wheeler's testimonial on our Nile Cruise Testimonials page.
The dates that are priced at £399 are 1st and 29th of June.  That price is for a lower deck cabin on a full board basis, flying from Gatwick (Manchester is £40 more) and includes a full 10 excursion programme.
The offer is subject to availability, so please hurry if you want to book.
Call us on Freephone 0808 1089 100 for more details and availability.