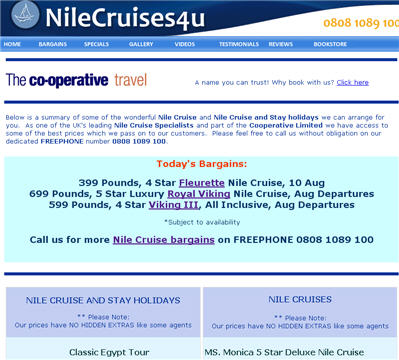 We've just created a new page for the website entitled Nile Cruise Bargains that lists the many Nile Cruises and Tours that we feature.
Although we have a Bargains page on the site that displays the last-minute Nile Cruises that we have available the new page lists the immediate Nile Cruises departing within the next week or so and also directs visitors to the site to look at the many variations we have for Nile Cruise and Stay holidays and several of our multi-centre stay tours.
Although the new page doesnt' list all of our Nile Cruise and Stay holidays or our Egypt tours I'm working hard over the next few weeks to add as much as possible to the page.
I'm trying to ensure that the prices displayed include all the extras that are payable and that there are no hidden surprises.  A number of operators show very low prices but when a client comes to book they find that the prices are not so cheap and there are a stack of extras to be added.
If you'd like to visit the new page then here is the link: Nile Cruise Bargains