Visiting Cairo Day 1
After landing at Cairo Airport and dropping our bags off at the Movenpick Pyramids Hotel in Giza it was time to drive the short distance over to the world-famous Oberoi Mena House, which is the nearest hotel to the Pyramids complex. In fact it's entrance faces the entrance to the Pyramids complex so it could not be nearer.
The Oberoi Mena House is one of the hotels that we recommend for clients taking a Nile Cruise and Stay holiday combining a cruise and a stay in Cairo.
Barbara and I have stayed in and also visited some of the most beautiful hotels in the world and I would say that the Oberoi Mena House must rate very highly amongst them.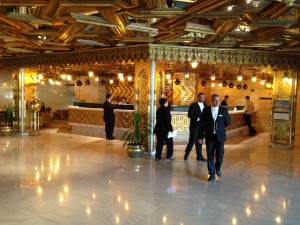 As you pass through the entrance gates you drive though beautifully manicured gardens. Then you reach the main reception building which is elegant and imposing. You are welcomed by liveried doormen and then you enter into the what I can only call  the "golden reception area". This picture above will show you why I call it by that name. It's really a wonderful sight.
The hotel has two sections. The Palace Wing and the Garden Wing.
The Palace bedrooms are located in the main building and include some of the most lavishly appointed suites that I have ever seen. Usually occupied by politicians, royalty and celebrities these suites are particularly expensive. Often used to host meetings of politicians from around the world these suites boast unparalleled views of the Pyramids and you can imagine world-famous politicians relaxing on the extensive balconies viewing one of the remaining Wonders of the World. I wonder if it helps them put things into perspective?
Here's a photo of Barbara enjoying the view from the Presidential Suite. The most expensive the hotel possesses….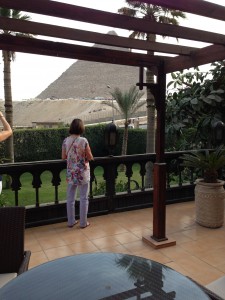 The Garden Wing is located a short walk from the reception and features deluxe garden views and Premier rooms and suites. Again the decor and furnishings are excellent and compliment the beautiful surroundings. There is a lovely swimming pool area that serves both wings as well as a extensive lawn area that families with children can enjoy.
The choice of dining options is extensive. From the excellent restaurant besides the swimming pool area that offers Italian, Egyptian and international dishes to the main restaurant in the main building the food is beautifully prepared and delicious.
We were invited to take lunch with the hotel's sales manager and what a fabulous lunch it was. Here's a few photographs of the restaurant and our fellow diners to give you an indication of what we enjoyed… Continue reading "Visiting Cairo"