If you have already taken a Nile cruise or would like to enjoy a cruise that takes in Jordan and the mysterious city of Petra plus the opportunity to visit The Pyramids and The Sphinx in Cairo please take a look at the Red Sea Cruise that we have added to the main Nile Cruise 4u website.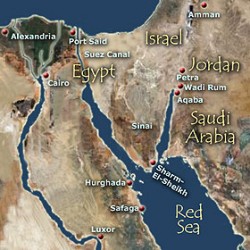 You will sail from Sharm El Sheikh and will be able to visit Aqaba, Petra, Cairo, (Sphinx, Pyramids, The Egyptian Museum), Luxor, (The Temple of Karnak, Valley of The Kings) and Hurghada. All within 8 days.
You can fly from a variety of regional airports and you can also combine the cruise with a further 7 nights in Sharm El Sheikh.
The cruise ship is larger than a traditional Nile Cruise ship with 9 deck in total and a variety of cabins available.
You can read more about the Red Sea Cruise including all of the available (optional) excursions by visiting our Red Sea Cruise page.
If you'd like to know more about it please call either Barbara or Colin on Freephone 0808 1089 100.