The Conrad Hotel Cairo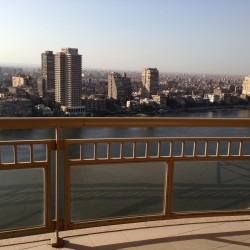 After our visit to the Egyptian Museum we were ready to eat so it was really great that the management of the Conrad Hotel had invited us to have lunch at the hotel and then have a good look around.
We have booked clients into the Conrad Hotel before. Clients who are taking a Nile cruise and Cairo holiday either ask to stay out by the Pyramids at Giza or downtown Cairo. If we place them downtown we often suggest the Conrad however this was our first time at the hotel. It's always so much better when we can recommend a property or a ship if we've stayed there ourselves or visited recently.
The Conrad is located right on the banks of the Nile and almost all of it's rooms have superb Nile views. Most rooms offer you truly panoramic views over the Nile and right across Cairo. Up and down the river too. It's in a fabulous location. Here's a panoramic view that I took with my iPhone5 from one of the balconies of the Conrad. If you click on it you should get a real idea of the views from the Conrad.

Of course it's a city-centre hotel but it is very luxurious and it hosts some very important guests from around the world. Recently it had been hosting major political meetings with many important politicians staying there. Some of it's top floor suites play host regularly to celebrities and are used for TV and media interviews.
We were met by the hotel's sales manager and were treated to a superb lunch. The restaurant is very luxurious with friendly and very professional staff as you would expect from such a prestigious hotel which is part of the Hilton chain.
The chef came out to greet us which was a really nice touch and the food was wonderful. If you are considering visiting Cairo and are thinking of staying downtown then I can heartily recommend the Conrad for luxury, comfort, dining and the convenience of it's location.
We were shown a wide selection of rooms from the standard to the top suites and I can honestly say I would be delighted to stay in any of them. I found the hotel really friendly and comfortable which is always a great indicator of a top hotel, professionally run.