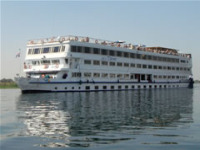 We have just received a great testimonial about the MS Da Vinci Nile cruise ship from clients who have just returned.  You can read it on our Nile Cruise Testimonials page on the main Nile Cruises 4u website.  However to save you time here's a copy of the testimonial:
"Dear Colin,
We were both very impressed with your service and both enjoyed the holiday.
We have been on a Nile cruise twice before and knew what to expect but this was better than the others.
The ship, (MS Da Vinci) was great and we had a wonderful time.  It was all well organised and our guide was brilliant.
The food on the ship was good and we had a fair amount of choice.  The waiters did all they could to ensure that we were happy.
Thanks you"
Ruth and Graham V—-
Auguts 2010