Domina Prestige Nile Cruise Testimonial: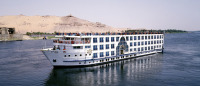 We have just received an excellent testimonial for the Domina Prestige Nile cruise ship.
It has been written by two of our clients who flew almost a week after the flights to Egypt were resumed after the Revolution and they are at pains to state in their testimonial how quiet and peaceful things are over in Egypt and what a wonderful time they had.
That bears out the experiences of Barbara and myself when we were out in Luxor some four weeks ago. Everything is very much back to normal and the Egyptian people we met were delighted that we had come and they were very proud of the Revolution and keen to tell us of the experiences and hopes for the future.
You can read this new testimonial and many more on our dedicated New Cruise Testimonials page but to save you the bother I am reprinting it here:
"Hi Barbara and Colin,
I would like to congratulate you and your organisation for making our holiday absolutely wonderful. It was everything I had always envisaged it would be and more.
The organisation from the very moment we booked was absolutely faultless. Your advice and help was invaluable. Your representatives in Egypt were very professional, well presented, helpful and were always available should be need to ask anything. Everything was organised down to the last full stop. Wonderful. The trips were stupendous, again so well organised.
The Domina Prestige Boat is luxury on the water. The cabins were spacious, bathrooms lovely with all the toiletries one would need. The patio doors with the Juliette Balcony was great. It meant we would just open the curtains, in a morning, open the patio doors and just watch everything go by. The food was delicious, always hot and with a very good variety. Lunch was just as good as the evening meal. I would certainly recommend anybody to go All Inclusive as it takes the hassle out of buying drinks, especially in the evening when you are with a crowd. Every meal time, we had two bottles of water given to us to take away.
All the Staff were so welcoming ,helpful, friendly and nothing was too much trouble for them. It was great to come back to the cabin in the evening to find a different towel sculpture every day.
Our Egyptologist was Amir, and he was absolutely excellent. He was so passionate about Egypt and it certainly rubbed off to all his group. We were called his "Family" and he most certainly made you feel that way. How he could remember all the things he told us is just amazing. A Truly Dedicated Egyptologist. I would highly recommend him to any Travel Company who needs an Egyptologist.
We travelled a few weeks after the trouble in Cairo and can honestly say, we saw nothing whatsoever of anything ever having happened.
Please, anybody who reads this and is interested in going to Egypt, it is perfectly safe, absolutely brilliant and has such magnificent sites to see.
One of the "MUST DO" trips is the Abu Simbel. We travelled early in the morning by coach, along with our pillows. It was absolutely magical. We saw the dawn rise over the Sahara, which is a sight to be remembered and never to be forgotten.
On arrival at Abu Simbel, it just made the hairs stand up on the back of your neck. Absolutely magnificent If there is one sight you should see in a life time, it is definitely Abu Simbel,. On our return journey, we saw mirages in the desert. Again an absolutely Must.
Well I could go on and on. Praise after praise is all that we can give for this holiday.
Once again a very big THANK YOU. We will certainly be booking with you again and have already spread the word around about what a magnificent holiday we had with the help of you. We have told everybody to make sure they book with Nile Cruises 4u.
I do see that you do other destinations such as Kenya so we must get researching for next year".
Mavis and Charles
Sale
Cheshire