The Egyptian Museum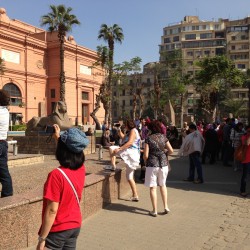 Our great guide, Emad, purchased our tickets for entry to the Museum and at the same time picked up earphones and what I imagine were receivers that we were to wear around our necks so that when we entered the Museum he could ensure that the only commentary we heard was his.
Normally the museum is completely full of visitors and guides and so I it must be very difficult to hear or concentrate on the commentary from you own guide. Today it was still busy but not as busy perhaps as before the Revolution. However we were amazed at how many visitors there were considering it's considered "quieter than normal;"
As I mentioned before there were visitors from all over the world. From the USA to Australia and lots of countries in between. I suppose the fact the Egypt has such a wonderful heritage means that no matter what sort of upheaval it experiences there will always be travelers who want to see and experience what this marvelous country has to offer.
(I would imagine many of them had chosen a Nile Cruise and Cairo option when they were booking their travel arrangements).
The other reason to ensure that you have earphones and a receiver is be sure that you dont' get lost and that is you do get caught up and delayed by another group that you can still find your guide.

One thing the museum authorities make clear is that no cameras are allowed into the museum and this is enforced very strictly. As we walked through the museum a girl took out her mobile and took a quick picture with her phone's camera. Unfortunately it had a flash and the whole floor froze and looked at this poor girl who, I think, had just forgotten the rule. Nobody said anything to her but she was really embarrassed and very apologetic. So just be warned in case you forget when you visit the museum.
When we entered the museum it becomes obvious that it contains possibly the most extensive collection of exhibits and artifacts of Ancient Egypt in the world. There is really just so much to see.
It's got a great atmosphere and it's exciting to see how many people are fascinated by the story of Egypt throughout the earliest centuries.
If you are taking a Nile cruise and can add on a few days to travel up to Cairo I think you would be so pleased that did.
Emad, who obviously knows his way about the museum, took us to the highlights, as we were restricted in the amount of time we could spend in the museum because of our schedule.
He knew the things that we would be interested in and as we explored the museums' fantastic exhibits he gave us his knowledgeable commentary via our headphones. As we were often surrounded by fellow visitors and their guides it was a great benefit to not be distracted by the other guides explanations.
Tomorrow I'll tell you more about our visit to one of the world's most exciting museums.