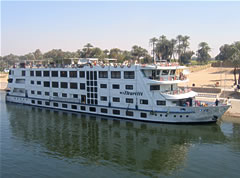 We have just had our new prices in for the MS Fleurette Nile Cruise for October starting at just £599.
The Fleurette, which is a 4 Star ship, has been probably the lowest priced Nile Cruise ship available this season and for value for money it offers a great deal.
Obviously you can pay more for 5 star and deluxe Nile Cruises but if you are limited by budget or are hoping to take a Nile Cruise as an extra holiday then it might be a great choice.
The price includes 10 excursions, full board and the services of a qualified Egyptologist plus the opportunity to take optional excursions to Abu Simbel and Cairo.
We received a great testimonial recently which you'll see on our Fleurette Nile Cruise ship page and if you would like any more information regarding prices and availability please call us on Freephone 0808 1089 100.