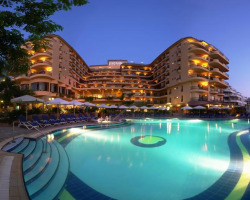 How about a 7 night 4 Star Nile Cruise and a week's stay in the fabulous Maritim JolieVille Hotel in Luxor for just £632?
Well that's what I booked for a client yesterday.
The Nile cruise ship is on an "allocated on arrival basis" but is a 4 star and includes excursions and full board and then the further week is at the wonderful Maritim JolieVille on it's own island in the Nile at Luxor.
We recently had some clients return from the JolieVille and this is what they said:
"I then went on to a week at the Hotel Jolie Ville on Kings Island, Luxor and this too could not have been better.  Again the accommodation, the grounds, the location, the food and the staff were superb.  It was a peaceful hotel but with enough to do in the evenings so one did not get bored.  I especially liked the "sunset hour" when everyone watched the sun go down over the Nile whilst classical music played, the birds sung and in the distance one could hear people being called to prayer.  It was a delight.  I would certainly go back again".
Doesnt' that sound lovely?
The price for this great deal was just £632 from Manchester on the 30th of August.
I'm not sure how long these great offers will be there but if you'd like to check on the availability or just find out more please call either Barbara or myself on Freephone 0808 1089 100.