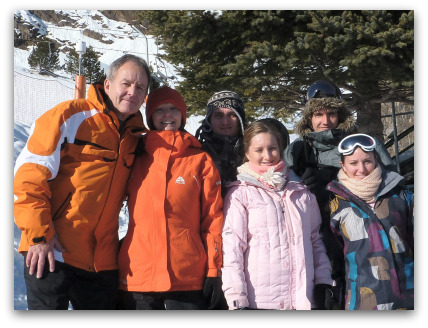 This is our last blog post for 2009 so we would like to take the opportunity to wish you a very Happy and Prosperous New Year from Barbara and myself and Nile Cruises 4u.
We have just returned from a great family Christmas skiing holiday in Andorra where our eldest daughter, Sophie, became engaged to her boyfriend Chris.  It was, by all accounts, a very romantic moment with him going down on one knee at the top of the slopes and proposing.

Brave lad, eh?
If I'd have gone down on one knee either one of two things would have happened.  One, I'd never have been able to get back up again or two, I'd have slid slowly backwards and disappeared down the slopes!
Ah, the romance of the young.
So we  now have the excitement of a new year ahead and we are looking forward to it immensely.
Over the last few days we have had a lot of calls asking for our personal recommendations regarding which ships we would choose if we were booking oursleves.
Well, as you know if you read our blog regularly, we have just returned from Egypt after taking a short inspection trip and I suppose that if we were to travel again next week we would choose either the Viking Princess or the Royal Viking if we had the choice.  Both ships are excellent value for money with really high standards of comfort, hygene and safety and we really enjoyed our time on them whilst we were there.
Of course there are other excellent Nile Cruise ships that we would recommend but if budget wasnt' a limitation I think our first choice would be either of the two Viking ships.
Over the coming weeks I'll be adding more and more video and photos from our visit and hopefully will be recording a few more episodes of the  Nile Cruise Podcast.
Until then I hope you enjoy your New Year's Eve celebrations and we'll see you in 2010.