A few years ago, on one of our visits to Cairo, when we were staying at the excellent Le Meridien Pyramids Hotel, virtually overlooking the Great Pyramid, we decide to take a full day excursion, visiting Memphis, Saqqara and The Great Pyramid.
We booked the trip via the hotel's reception that evening and the next morning we were collected by our guide for the day in a small, air-conditioned and very comfortable mini-bus.
Our first stop, after an hour or so's drive was the Memphis, Egypt's first capital, and the Memphis Museum. We arrived quite early so there were very few other visitors around, as I imagine it must be like now. Amongst many other things we saw the colossal statue of Ramses the II, which apparently was the inspiration for Shelley's poem, "Ozymandias". The statue once stood 11metres high but now lies on his back with his feet missing. Even on his back you can still get an impression of just how awe inspiring the statue must have looked. And, as always in Egypt, you wonder how on earth they made and elevated these amazing structures.
From there it was a short drive to Saqqara, the home of one of the first, if not "the" first Pyramid, known as the "Step Pyramid of Zoser".
Standing 62 metres high, this pyramid is thought to be one of the oldest stone-cut constructions on earth. Nearby you can go inside the Pyramid of Teti where, after a short walk, you will see walls of hieroglyphics that are so clear and vivid that it's hard to believe that they are over 4000 years old. In fact they believe that the "Step Pyramid" predates the Great Pyramid by over 200 years.
After our time at Saqqara our excellent guide drove us the 12 miles back to The Great Pyramid, which along with the Sphinx is Egypt's most famous icon.
Finished around 2,500 BC, it is the oldest and largest of the pyramids at Giza and stands at 139 metres high. Barbara decided to go inside the Great Pyramid whereas I declined and, after Barbara telling me how claustrophobic it was, I'm so glad I didn't' join her.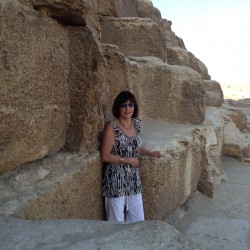 Our guide then took us to see the Sphinx and to various places where we could get some great photos before returning us, around 4.oopm, to the Meridien Pyramids Hotel.
If you visiting Cairo after your Nile cruise, then this full day excursion, "Memphis, Saqqara and The Great Pyramid" is certainly one I think you shouldn't' miss.