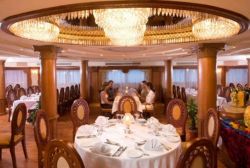 We have just added a new testimonial that we received from a client who sailed on the MS Stephanie.
In fact they sailed last year but due to a problem with our emails we have only just retrieved it from our inbox!
If you take a minute you will be able to read a really positive review of this ship and how much the clients enjoyed their time sailing on her.  They also mentioned that if you get the time prior to departure to read up a little bit about the history of Ancient Egypt it will certainly help you enjoy the sights and experiences even more.
One Egyptian Travel Guide that we can recommend that a number of our clients have mentioned is the Dorling Kindersley "Eyewitness Egypt" guide.
If you pop over to the Nile Cruise Testimonials page you can read all 26 testimonials but in case you dont' have the time at the moment here is the testimonial we've just published:
Hi Barbara,
This is just to thank you for the excellent arrangements for myself and Roger in Egypt. Everything that you did for us went like clockwork. The only thing that did not, which was quite out of your control, was the chaos at Luxor Airport. Mondays have four flights arriving within one hour with queues and chaos aplenty.
The cruise on the MS Stephanie was a dream and you managed to request top deck cabin space for us – well done. The crew were super attentive and your advice to pay up-front for alchohol was exactly right. The Egyptologist (Sam) was of enormous value, highly instructive and knowledgable with a clarity of delivery which made everything come alive. Your suggestion as to the Sonesta St. George Hotel in Luxor was excellent with top grade room service and beautifully appointed rooms with quality furniture.
We really appreciated your attention to detail. We would strongly urge anybody with even the slightest interest in history and particularly the history of Ancient Egypt to take the cruise asap! However I would add one caveat. Namely it pays you back "hand over fist" to do a little bit of background reading. Egyptian history is just too long to cover more than the highlights on the cruise. I would suggest that a quick "mug-up" on the 18th Dynasty, Ramses II and Tutankhamun would greatly increase one's appreciation of what is on offer.
Thank you Barbara for your fine efforts on our behalf.
Best wishes,
Charles A.
March 2010