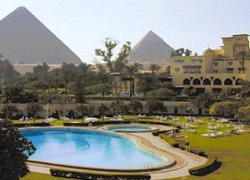 Although we get enquiries for lots of different Nile cruise ships and different tours we often get a whole spate of enquiries for the same tour and over the last week we've had lots of enquiries for the 1 week Nile Cruise and 3 night stay in Cairo.
Last week we received lots of enquiries for the 1 week tour, (4 night Nile Cruise and 3 nights in Cairo tour).
I wonder why these things come in batches like this. Not that we're complaining!
Today we've booked a number of parties on the 10 night arrangement and we've received enquiries from a number of other people that will hopefully come back to us tomorrow when they've decided.
It is an ideal way to experience the best of Egypt with the 3 days in Cairo allowing you to visit the Pyramids and the Sphinx followed by a relaxing Nile Cruise when you'll enjoy having the Egyptologist explain the mysteries of Ancient Egypt whilst relaxing in the afternoon and evenings on board your chosen Nile Cruise ship.
We offer a variety of hotel and Nile Cruise ships depending on budgets going from the 5 star Viking Premiere and the Sofitel Le Sphinx Hotel in Cairo up to the deluxe Royal Viking Nile Cruise ship combined with the 5 star deluxe Mena House Hotel Cairo.
It's a trip that Barbara and I intend to take this summer and I'm looking forward to getting lots of video footage for the website as well as some sound recordings which I want to add too.
If your interested in finding out more about the 1 week Nile Cruise and 3 nights in Cairo trip you'll find more details on the main Nile Cruises 4u website or call Barbara or myself on Freephone 0808 1089 100.