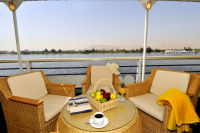 If we were to be asked today…"What's the best Nile Cruise bargain that you could recommend today?"…
…we would have to say:-
The Viking Princess for just £599 (!!) for departures on the 7th, 14th, 21st, 28th of June and the 5th and 12th of July.
The Viking Princess is a great ship.  We were on the ship late November of last year and were really impressed by the standards of the accommodation (cabins are lovely), the standards of hygene and safety, the friendliness and professionalism of the crew and the all round feeling that this is ship that is operated to the highest standards.
The lead in price of £599 is for a 7 night, full board Nile cruise with 10 excursions and all transfers and taxes.  That price is for a lower deck cabin and the middle deck supplement is £40 and upper deck is £60.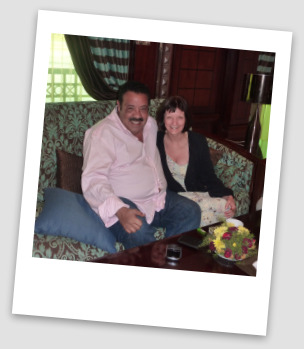 When you think that at other times of the year you will be paying as much as £949 you can see that this special price is fantastic value.  If we could get away from the office ourselves then we would book it today.
We met the owner of the Viking Princess, Mr. Ramadan Haggagi, (see the picture with Barbara) and he is very proud of the ship and determined that it offers some of the best 5 star quality cruising available on the Nile.
If you would like to see more of the Viking Princess please take a look at our dedicated Gallery and you will see the quality of the accommodation.
Of course we have other ships at various star ratings that we can offer you but, hand on heart, if we were asked for the best value bargain available at the moment we would recommend the Viking Princess without hesitation.