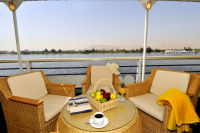 Over the last few weeks we have had some excellent Nile Cruise Bargains and some travellers have obtained some wonderful deals that have enabled them to enjoy one of the world's truly memorable travel experiences.
During July and August there will be some changes in flight availability that will affect the availability of Nile Cruises in the respect that a number of flights have been cancelled over the summer months.  However there is now a new carrier, EasyJet, flying from Gatwick to Luxor which will make up for some of the loss of seats.
It is still a great time to "grab a bargain" and if you look at our Nile Cruise Bargains page you will see some excellent "Nile Cruise and Red Sea Offers" which will give you a real taste of Egypt, ancient and modern.
You will also be able to watch the video on the main Nile Cruises 4u website that explains the excellent "Pay for one Nile Cruise and the second person only pays 50%" offer.
That offer is for departures between the 10th of October and October 2012 and is for cruises on the Viking Princess, the Royal Viking and the Alexander The Great Nile cruise ships.
So if you are thinking of booking a Nile cruise for later this year or for 2012 you will not find a better offer for those three excellent Nile cruise ships. You should really take a look at that offer as it could save you up to a £1000 on the Alexander The Great for instance.
If you would like to talk about any aspect of Nile cruising or any of the offers we have please dont' hesitate to call Barbara or myself, Colin, on Freephone 0808 1089 100. We love talking about Nile cruising and can advise you from firts-hand experience.