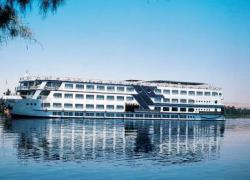 We have just received a really comprehensive testimonial from two of our clients who enjoyed a 1 week Nile Cruise and 3 days in Cairo over the New Year period.
They sailed on the Radamis II Nile cruise ship and you can either read the full testimonial here or visit our Nile Cruise Testimonials page where you can read 39 other testimonials from previous clients.
Here is Nino and Reg's testimonial:

Radamis II and Cairo Trip December 2009
We had a great time in Egypt.  It is a fascinating place and all that is said about the amazing sights is true!  Our complicated itinerary worked remarkably smoothly – we heard stories of prblems.  Monarch was good. 
The Radimus II was excellent.  Very clean and tidy and we got our upper deck cabin and (they said) an upgrade to a bigger cabin though they all looked nice.  The staff were all very motivated, helpful and friendly andthey had excellent chefs.  Food was great and I ate everything and was fine.  They out put on a really great New Year's Eve party and made a huge effort.  Again we heard others talk of awful boats when we were back at the airport.
Our guide on the cruise was quite good, he usually worked for one of the UK specialist tour companies.  He was a bit brief compared with some we listened in on but overall a nice guy.  The big advantage of a ship versus a more romantic felucca or dahabiyya is the fantastic views from the top deck as you go along the river.  I suppose as it was not a complete package our tour had an amazing mix of people: one New Zealand and one
Japanese couple from London, American family, South African couple, Indian family.  So that was a bonus.  We had to do our own thing the last Monday (when we had the day to ourselves in Luxor) and that worked fine.  We left our luggage at the Luxor train station which is a good travel tip for anyone doing the same as us – as there is nothing at the airport.  The day we left the boat we could leave our luggage there all day as we did not leave til 10pm but the ship was there overnight.
As we arrived so late in Cairo we decided to sleep in and take a taxi in to do the museum on our own.  It was nice to be able to potter about the museum rather than being whisked around from exhibit to exhibit by a guide.  We also went at lunchtime which was a nice quiet time to see the Tutankhamun section which of course is amazing.  I dont' think the new museum will be have such a nice old-fashioned atmosphere as the existing one though no doubt it will be better for the exhibits.  We hired a car + guide in Cairo – the same company that did the pick up – to do the Pyramids and Memphis (that was a better price locally than we expected from your info) and that worked really well.  The lunch was delicious local food – it was out near the memphis/Saqqara are and although much frequented by big groups was excellent. I think the only thing we did not like is the constant "baksheesh" and the hassle in the markets.  Mostly it was friendly hassle but we came across one very aggressive guy outside the Le Merdien Hotel in Giza which was not very pleasant.
So everything was great!  Many thanks for putting the itinerary together for us.
Nino and Reg,
Ireland
January 2010