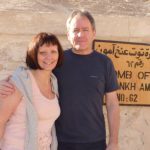 We regularly get asked whether its' best to take a Full Board Nile Cruise or an All Inclusive Nile Cruiseand, to be honest, more people initially look at the idea of an All Inclusive Nile Cruise.
I can understand why people think All Inclusive is THE main choice but unfortunately people only seeking an All Inclusive Nile Cruise are missing out on a large number of excellent Nile Cruise ships who only offer Full Board.
One of the things I tell people is that for the right reason the All Inclusive option is a good choice. That might be when your budget is tightly limited and you need to know exactly what your Nile Cruise will cost you in total before you travel. Or, if you have been personally recommended to a particular Nile Cruise ship and that ship only offers an All Inclusive option.
However, for those people seeking more choice, both in the ships available to choose from and in the choice of refreshments available on the ship then it may well be worth looking at a Full Board option.  Barbara and I have sailed on both All Inclusive and Full Board ships and have enjoyed both but now, if the option is available, we would normally plump for the Full Board option if the ship offers a choice in refreshments/drinks, etc.
To try and help people think a little more about the choice between the two options I have written the following article which I hope will help:
Nile Cruises – Full Board or All Inclusive
If you are thinking of taking a Nile Cruise in the near future you will see when you start looking that you will have the option of a Full Board Nile Cruise or an All Inclusive Nile Cruise. So which to choose and what's the difference?
Well, firstly, I recommend that you avoid the initial impulse to go for the All-Inclusive option as you might do when looking at a hotel-based holiday. A Nile cruise is very different.
One thing that you may wish to think about, if this is your first Nile cruise, is that apart from any refreshments that you may buy there is literally nothing else to spend you money on, either on board or when on shore. So you do not need a pocket full of spending money as there is so little to spend it on.
On the ship there is literally nothing to spend your money on. They will not ask you for any "extras". Entertainment is included in the cruise price and although they do have a "ship's shop" on board you will find that all they really sell are the cheap souvenirs that most of us would give a wide berth.
On shore you will find that you will pass stalls and shops on the way into the ancient sites, but again, most of it you wouldnt' give "house room". So  you will probably not be spending money.
So the choice between All Inclusive and Full Board should not be based purely on saving money. You need to consider a few options.
Firstly, a lot of Nile cruise ship owners will not offer All Inclusive as they feel they cannot maintain the standards of food, service and staffing if they have to provide unmlimited drinks and refreshments. So, if that's the case and you only look at All Inclusive ships, you will be missing out on a lot of really superb ships that only offer Full Board.
Secondly, its worth considering that if you choose an All Inclusive ship then you may well be limiting your choices. Let me explain.
On many All Inclusive ships the the "included" wine and beer will come in a glass not a bottle and if you do not like that wine and beer then there may well be no alternative.  Wine and beer that you do not like can be hard to take for a full week. Normally, on a full board ship, you will be able to buy wine and beer by the bottle and there will be a choice of brands. So, if you prefer a choice and you want to be sure that you are not just stuck with one wine or one beer then you perhaps need to think about a Full Board ship.
Obviously All Inclusive can be very handy if you want to be totally sure that your Nile cruise costs are capped and you will know exactly what you are going to spend. Or, if you are on a limited budget then All Inclusive can be the best choice.
However, if you are thinking that Full Board drinks might cost you a fortune and that you will be presented with a huge bill at the end of the week then let me put your mind at rest.
Barbara, my wife and colleague, and I cruise the Nile regularly and have enjoyed All Inclusive and Full Board Nile cruises. However we now prefer Full Board as we like to be able to make choices that otherwise may be limited on an All Inclusive cruise.  Our last cruise was a few months ago on board an excellent 5 star Full Board ship and our total bill at the end of the week was £210 for the pair of us. In other words £105 each. That included a bottle of wine for most meals, (often that bottle lasted over 2 meals), beers, cold drinks and coffees in the afternoon and a few vodka or gin and tonics after dinner. Plus we had some clients on board and bought a few drinks for them too. So you can see that we did not skimp and yet our total bill came to £210.  Now when you think that we spent  no other money during the week that wasnt' bad.
So there are plusses and minuses for both Full Board and All Inclusive but I would suggest that you keep an open mind and choose the best ship based on service, standards of accommodation and reputation rather than just choosing the All Inclusive option and missing out on a much wider choice of Nile cruise ships.