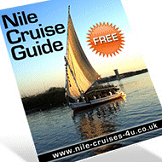 I hope you've managed to download our FREE Nile Cruise Guide.
We wrote it to help potential Nile Cruisers get a real "feel" for just what a Nile Cruise entails and we've tried to give as good a picture as possible.
It's full of advice, tips and descriptions of what you'll do, what you'll see, what to wear, the places and sights you'll see and lots more.
If you've already read it and can think of anything that's missing or anything that we can add or expand on please email me on " colin(at)tarsc.net and I'll take care of it.