We have just received a very detailed testimonial/review from clients who recently enjoyed a 15 day Nile Cruise, Lake Nasse Cruise, Cairo and Luxor holiday that we arranged for them.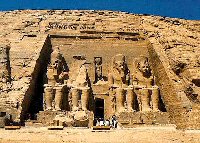 You can read the latest review on our Nile Cruise Testimonials page along with 27 others. Or if you dont' have the time at the moment here's a copy:
Dear Colin & Barbara,
Just to say that we had an absolutely fabulous holiday and to thank you for helping us to arrange it.
Needless to say but the tourist trade was very quiet, making it a great time to visit the sites without too many queues. On the security side, we could not visit Edfu because of some local problems and we restricted ourselves to the museum in Cairo, otherwise we felt perfectly safe at all times.
The itinerary (Nile cruise, Lake Nasser, Cairo & Luxor) worked perfectly and we would recommend it to anyone looking for a 2 week holiday seeing as many sites as possible. We debated if we should have done Cairo at a different stage of the holiday but I think it works best if you do the museum after you have seen some of the sites that the pieces came from.
Personally, I would not have liked to have finished the holiday in Cairo – it was too busy and polluted to be enjoyable but we could not miss seeing the pyramids or the museum.
A quick summary of the boats and hotels:The Ra II. It was about 70% full which was nice. Any more and it might have been a bit cramped on the sundeck etc. The Egyptologist (Mohammed) was excellent and we were in a group of between 6 and 14 depending on the excursion. Our first impressions were that the boat was a little "tired" but we soon got used to it. We particularly liked the fact that we had a Julliette style balcony and could open the windows. Some of the newer boats seemed to have full length windows that could not be opened. Fortunately, we only had one night when we were moored next to another boat.
The food was very good and the staff could not have been better. They managed the fact that we were on a 4 night cruise whilst most others were on a 7 night cruise very well. We saw Luxor and Karnak on the 2nd afternoon (while the 7 dayers had an afternoon off) and we could only see either Kom Ombo or Edfu (as Edfu had security problems, this did not affect us). Otherwise we saw just about everything, just with less leisure time. Sailing to Dendra on the first day was a bonus – not many boats seemed to do this.
The Omar al Kayham.
As you know, we were moved to this boat from the Prince Abbas. I don't know if it was a better boat than the Prince Abbas but it was very good and it is difficult to imagine a better boat. There were only 27 passengers on this 3 night cruise of Lake Nasser. We were told that there were 130 crew which meant that we got excellent service even though it surely could not profitable. The cabin was about twice the size of the Ra II and we had a small balcony which was big enough to fit 2 chairs on. We really enjoyed this cruise, it is more relaxing than the Nile and the scenery is different. We typically had one stop of about 2 hours to see the temples and would usually see 3 or 4 temples in one stop. The only slight criticisms of this boat were that the reception struggled to change English money into Egyptian (we eventually got £20 changed).
Mercure La Sphinx, Giza.
Well located and reasonable quality. Most guests seemed to stay for only 1 night which meant that the lounge area felt a bit like an airport transit lounge at times. The pool and gardens were a nice escape from the city outside the hotel. A good choice for 2-3 nights. A taxi into the museum took 50-60 minutes. The pyramids excursion that you arranged for us was very enjoyable. We had been warned that many of these excursions insisted on visiting the carpet / papyrus shops. We made it clear that we were not interested and it was not a problem. The guide asked what we wanted to do about lunch and drink breaks. We agreed to simply have a drinks stop for about 45 mins and this worked fine. A little disappointed that we did not have the option to see the Solar Boat (he told us it was not open but other people staying at the hotel said that they saw it). Also, it would have been nice to have had the option to extend the day to include Dashur.
Sheraton, Luxor.
Very pleased that we went for the superior room with the Nile View, it finished the holiday off very nicely. Excellent hotel and we like that it was situated just out of town. As it happens, the Ra II moors next to the Sheraton. It appeared that the travel companies were pushing the hotel as a place for a family break in the sun. Given the state of the tourist trade, we could not blame them for trying but it did detract from the quality of the hotel at times (I know, I am a snob!). We did not feel confident enough to eat out in the evening but the on-site Italian restaurant was very good. We would have struggled to find somewhere we wanted to eat if we had been there for longer.  The hotel were giving big discounts on food and drinks which made them quite reasonable.
As you told us they would, all the transfers went very well – from the moment we got off the plane until we checked in for our return. After a while we learnt to just trust things and they seemed to happen. The Rep in Luxor arranged a hot-air balloon ride for us at short notice – an experience not to be missed!
Thanks again for helping make this a successful and special holiday for us. We have already recommended you to friends who are thinking of an Egyptian holiday.
Best regards
Duncan & Susan