Hi,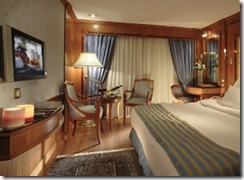 I've been looking at our "search terms" statistics to see what most people are searching for at the moment when they use Google or any other search engine and it appears that currently the most popular search term is "Nile Cruise last minute".
That suggests to me that a large number of people are hoping to take a Nile Cruise within the next few weeks. Not surprising really as the weather in January and February is possible the worst weather that we suffer in the UK all year and as Egypt's climate is so good at this time of the year it really is an ideal time to cruise the Nile.
At the moment the temperature in and around Luxor, where the Nile Cruises start and finish is in the 70's which is really the perfect climate to visit such sites as The Valley of the Kings and the Temple of Hatsepshut amongst others.
After lunch it's up on the sundeck to relax and enjoy sailing down the Nile to the next port of call. Ideal!
The beauty of Egypt and cruising the Nile is that after just a 4 and a half hour flight in the middle of our winter you can be basking in guaranteed sunshine as opposed to flying for up to 11 hours or more to reach other long-haul destinations that have guaranteed sunshine.
On our Nile Cruise Bargains page we have a whole host of great "Nile Cruise Last Minute" deals. For me one of the best deals we have is the 50% off the second person travelling offer on the excellent Viking Princess and the superb Royal Viking.
The final "per person" price is a great deal and the standards of accommodation, food and service on both ships make the deal one of the best available.
Why not call us on Freephone 0808 1089 100 with no obligation and we'll tell you all about the offer and let you know the current availability?