Nile Cruise Offers
I've just sent out one of the best Nile Cruise offers we have ever seen to subscribers to our mailing list.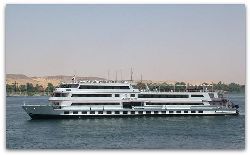 The details are that if you book a Nile cruise on either the Viking Princess, the Royal Viking or the superb Alexander The Great Nile cruise ships the second person in the party will get a 50% reduction.
In other words…
Book One Nile Cruise and get the second person's cruise at Half Price!
The great thing about the offer is that it includes departures up to October 2012.  The only thing you need to do is book your cruise before the 31st of May.
If you would like more details please call either Barbara or Colin on our Freephone number 0808 1089 100 as soon as possible.
We have another excellent Nile Cruise offer available at the moment that will give you a second week's holiday in Luxor for FREE if you can take that extra week. You can read more about that offer here.
 However if you can only spare a week then this latest offer is a great deal.
Obviously these offers are available because we are still recovering from the Egyptian Revolution that affectedthe travel business in the immediate aftermath but Barbara and I travelled to Egypt in late May and cruise on the Royal Viking, visited a number of the excellent hotels in Luxor and spent a great deal of time talking to our Egyptian colleagues and we can assure you everything is fine in Luxor and on the Nile and these offers are a great opportunity for those who can book within the next few weeks.
It's a really great time to visit Egypt as you will find that those you talk to, including your Egyptologist, are excited about the future and so pleased to welcome visitors to the "new Egypt".