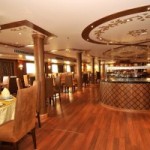 The exceptional "
Book a Nile Cruise and Get The 2nd Person 50% Off
" offer is due to finish this Saturday the 13th of August.
If you havent' seen the offer then let me briefly tell you about it again:
If you book a Nile Cruise on either the Viking Princess, the Royal Viking, the Royal Ruby or the Alexander The Great then you will pay full price for the first person and get a 50% reduction for the second person.
That offer is for Nile cruises departing between September 2011 and October 2012 on the Royal Ruby and for Nile cruises departing bewteen October 2011 and October 2012 on the Viking Princess, Royal Viking and Alexander The Great Nile cruise ships.
After this Saturday if you book the same ships the prices revert back to the normal full price so if you are thinking of taking a Nile cruise late this year or during 2012 then it truly is a great opportunity to save a lot of money. For instance on the Alexander The Great you can save up to £1000 on certain departures.  That's a lot of money.
So dont' miss out. Please feel free to call either Barbara or Colin on Freephone 0808 1089 100Â to talk, with no obligation, about this great Nile Cruise offer.