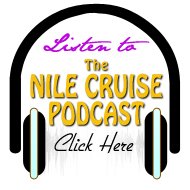 We have created the Nile Cruise Podcast to allow us to set up a series of interviews with people who have enjoyed a recent Nile Cruise. By interviewing them we can let them tell you, in their own words, just what a Nile Cruise entails..
Below you will see the most recent Nile Cruise Podcasts.
Simply click on the title of the Podcast you wish to hear and it will begin playing.
If you would be willing to be interviewed about your own Nile Cruise experiences please email me at info@nile-cruises-4u.co.uk
For information on anything mentioned on the podcast please call us at www.Nile-Cruises-4u.co.uk and speak to Barbara, or Colin on Freephone 0808 1089 100