Nile Cruise and The Pyramids
Strange title? Well not really. You would be surprised how many times we get asked by people "on what day on the cruise will we see The Pyramids?".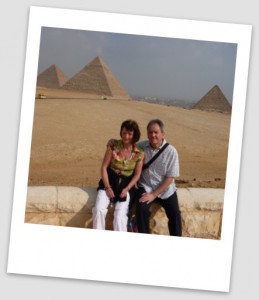 Understandable I think as a lot of people are not sure where exactly a Nile cruise starts and finishes and just whereabout, in realtion to the cruise, are The Pyramids situated. So, of course, they will expect to see The Pyramids at some point on their Nile cruise.
In fact a Nile cruise starts and finishes in Luxor, some 600+ kms from Cairo. The cruise commences in Luxor, sails down to Aswan and then returns to Luxor. So The Pyramids are not part of a Nile cruise.
The Nile cruise will take you to some breathtaking and truly ancient temples, sites and monuments but not The Pyramids.
To do that we normally book clients in for a further three nights in Cairo either at the beginning or the end of their Nile cruise. Three nights gives you 2 full days in Cairo which really allows you to visit The Sphinx and The Pyramids, enjoy the world-famous Sound and Light Show at The Pyramids and then on the second full day visit The Egyptian Museum and the Bazaar.
That way you can spend 10 nights and enjoy a truly memorable Nile Cruise and Cairo experience which will allow you to see almost all of Egypt's famous sites and artefacts.
We try and tailor-make each arrangement depending on the clients requirements and budget but you can see some of our pre-organised packages by visiting our Nile Cruise and Cairo page.
If you would like some advice on arranging a Nile Cruise and then spending 3 nights in Cairo please feel free to call us on our Freephone number 0808 1089 100 and speaking to either Barbara or myself, Colin. We've both been to Cairo and cruised the Nile on several different vessels and we can give you up-to-date recommendations to suit your individual requirements.
There's no doubt about it, if you can afford the time a Nile Cruise followed by a stay in Cairo is a wonderful travel experience.