We've just received this short but very positive Nile Cruise Testimonial: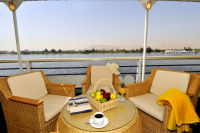 Hi Barbara,
Thank you. We have just had a great time on the Viking Princess Nile cruise ship.
We have always wanted to do a Nile Cruise but we had heard that people could get tummy problems.
We had none of that.  The food was the best we have ever had in Egypt. The guide was fantastic.
We are now at home taking a rest as this was a very busy programe but  we enjoyed every minute.
 So one again thank you. All the tips you gave us were a great help.
Sue and Keith