Just in case you havent' spotted this:
Â
Tonight BBC4 are broadcasting what looks like a fascinating programme for anyone who's interested in Ancient Egypt.Â
Â
Entitled "The Pharaoh Who Conquered The Sea", here is the programme's description:
Â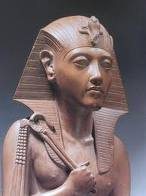 Â
"Hatshepsut was the first female pharaoh. During her reign 3500 years ago, she supposedly dispatched five huge ships across the Red Sea to other countries, as depicted in a vast relief at Luxor.  Some, however, believe this is a mere myth.
 Â
To test whether it would have been feasible, a team of archaeologists attempts to reconstruct the voyage, building replica vessels using only period technology.  It's part insight into the enigma of a very early feminist icon, part watching people build a giant model kit".
 
Â
The reason I suggest you might find the programme interesting is that when you cruise the Nile you will hear the name "Hatshepsut" mentioned again and again and this will give you further insight into the ingenuity and knowledge that existed within Ancient Egypt.
Â
It starts tonight at 10pm on BBC4 and, if you open this after the programme has already aired you can watch it again for another 7 days on BBC iPlayer.