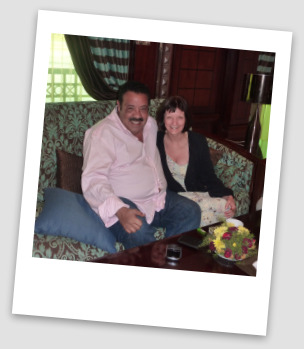 This morning we had coffee and Danish pastries with Ramadan Hagaggi the owner of the Royal Viking & Viking Princess.
Such a knowledgable man who is experienced in all aspects of travel to and within Egypt. So generous with his time, advice and hospitality.
He explained to us the extensive health & safety measures they have throughout both ships to ensure the very highest standards of hygene and safety.
He then arranged for his director of health, safety and hygene to show us around the kitchens and to show us personally how they take every precaution to ensure they meet and exceed the highest international standards. Both Barbara and I were really impressed by the proactive measures that are undertaken.
There are so many "small but vital" measures that they undertake that I would never have thought but those small measures add up to a comprehensive set of measures that ensure the comfort and welfare of their clients.
I can't fault either the Viking Princess or the Royal Viking for their scrupulous attention to detail.
Tomorrow Barbara and I sadly leave the Royal Viking to fly up to Cairo and we will both be very sad to leave this lovely ship and her friendly and professional staff.