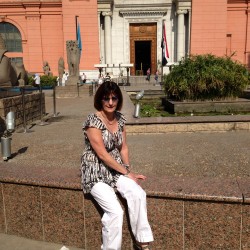 After your Nile Cruise if you add a few days up in Cairo to see The Pyramids, as so many people do, then more than likely you will spend a couple of fascinating hours in Cairo's Egyptian Museum just off the famous "Tahir Square", scene of the heaviest protests during both revolutions.
Barbara and I have visited the museum on a number of occasions.
The famous pink building is to be renovated to "return the museum to it's original status" according to it's director Mahmoud Halwagy.
It was originally built and I would suggest it is probably one of the most visited museums in the world due to the nature of it's exhibits. Today it is still a honeypot for tourists visiting the City however it's interior has seen better days and the whole museum needs to move into the 21st century. Continue reading "Egyptian Museum Cairo to be renovated"