Domina Prestige Nile Cruise Testimonial: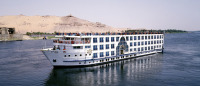 We have just received an excellent testimonial for the Domina Prestige Nile cruise ship.
It has been written by two of our clients who flew almost a week after the flights to Egypt were resumed after the Revolution and they are at pains to state in their testimonial how quiet and peaceful things are over in Egypt and what a wonderful time they had.
That bears out the experiences of Barbara and myself when we were out in Luxor some four weeks ago. Everything is very much back to normal and the Egyptian people we met were delighted that we had come and they were very proud of the Revolution and keen to tell us of the experiences and hopes for the future.
You can read this new testimonial and many more on our dedicated New Cruise Testimonials page but to save you the bother I am reprinting it here:
"Hi Barbara and Colin,