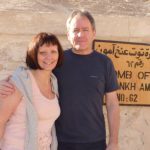 We regularly get asked whether its' best to take a Full Board Nile Cruise or an All Inclusive Nile Cruiseand, to be honest, more people initially look at the idea of an All Inclusive Nile Cruise.
I can understand why people think All Inclusive is THE main choice but unfortunately people only seeking an All Inclusive Nile Cruise are missing out on a large number of excellent Nile Cruise ships who only offer Full Board.
One of the things I tell people is that for the right reason the All Inclusive option is a good choice. That might be when your budget is tightly limited and you need to know exactly what your Nile Cruise will cost you in total before you travel. Or, if you have been personally recommended to a particular Nile Cruise ship and that ship only offers an All Inclusive option.
However, for those people seeking more choice, both in the ships available to choose from and in the choice of refreshments available on the ship then it may well be worth looking at a Full Board option.  Barbara and I have sailed on both All Inclusive and Full Board ships and have enjoyed both but now, if the option is available, we would normally plump for the Full Board option if the ship offers a choice in refreshments/drinks, etc.
To try and help people think a little more about the choice between the two options I have written the following article which I hope will help:
Continue reading "Nile Cruise – Full Board or All Inclusive"