We have just received a very detailed testimonial/review from clients who recently enjoyed a 15 day Nile Cruise, Lake Nasse Cruise, Cairo and Luxor holiday that we arranged for them.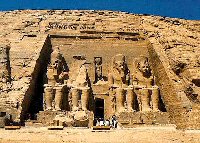 You can read the latest review on our Nile Cruise Testimonials page along with 27 others. Or if you dont' have the time at the moment here's a copy:
Dear Colin & Barbara,
Just to say that we had an absolutely fabulous holiday and to thank you for helping us to arrange it.
Needless to say but the tourist trade was very quiet, making it a great time to visit the sites without too many queues. On the security side, we could not visit Edfu because of some local problems and we restricted ourselves to the museum in Cairo, otherwise we felt perfectly safe at all times.
The itinerary (Nile cruise, Lake Nasser, Cairo & Luxor) worked perfectly and we would recommend it to anyone looking for a 2 week holiday seeing as many sites as possible. We debated if we should have done Cairo at a different stage of the holiday but I think it works best if you do the museum after you have seen some of the sites that the pieces came from.
Continue reading "Nile Cruise, Lake Nasser Cruise, Cairo & Luxor Holiday Review"