Travelling to Egypt
Barbara and I are travelling to Egypt in about a month to visit some properties and Nile cruise ships and meet some people.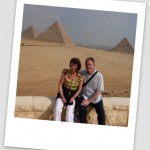 We're staying in Cairo for 2 nights at the Movenpick Cairo and we're going to take the opportunity to visit the Egyptian Museum as well as The Pyramids and The Sphinx. We've been to The Pyramids before but I believe it's a great time to go as the crowds havent' come back yet so you can stroll around easily and take your time. It'll also be good to visit the Egyptian Museum whilst it's reasonably quiet.
We're then travelling to Luxor and will stay at the Maritim Jolie Ville Hotel on Kings Island, the hotel that's actually on as island in the Nile. We've visited it before but I havent' been able to experience the nightly ritual of watching the sun go down in the outside bar as beautiful classical music is played. Lots of clients have told us about this so I'm really hoping we can catch it.
Whilst we're in Luxor we'll try and visit as many Nile cruise ships as possible to stay up-to-date with things and we'll take as many photos and as much video footage as possible so that we can add it to the website on our return.
After that we're going down to Aswan to stay at the Movenpick Aswan which I think overlooks the Nile and Kitchener's Island. That's give us the opportunity to visit the beautiful Old Cataract Hotel and a number of other Nile cruise ships.
I'm looking forward to the good weather. We travelled about a year ago in November and the weather was wonderful so fingers crossed this time.
I'll be adding our experiences here when we get back.