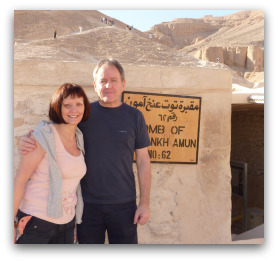 Channel 4 is starting a new series tonight at 8.00pm entitled "Tutankhamun: The Mystery Revealed".  In it Dr. Zahi Hawass and a team of scientists try to unlock the secret of Tutankhamun's life and death using DNA tests and the latest technology so it promises to be a fascinating series.
 
If are have already taken a Nile cruise you will have visited the tomb of Tutankhamun at the Valley Of The Kings and of course he is possibly the most well-known of Ancient Egypt's Kings.  If you are hoping to enjoy a Nile cruise in the future then the visit to the tomb is one the features of your cruise.
 
Barbara and I visited the tomb again last November when we were visiting the Royal Viking and Viking Princess ships and I have always found the story of the young King fascinating so I'll definitely be watching the series.
 
At the moment we have some great offers on the excellent 5 star Viking Princess from just £549 for Manchester departures which is excellent value for the fine ship.
 
We've also got some great prices on the 5 star deluxe Royal Viking on the 7th of June from just £699 for a 7 night Nile cruise from Manchester. 
 
Dont' forget that we can also arrange a 7 night Nile Cruise and Cairo holiday for you that will allow you to enjoy a 4 night Nile Cruise on the Royal Viking with 3 nights in Cairo at the excellent Le Meridien Pyramids Hotel in Giza, right next to the Pyramids.  Barbara and I enjoyed this arrangement last year and had a fabulous time.
 
So to close, dont' miss tonight's new series and please feel free to call us for any information about Nile cruises or to ask about our latest prices and availability.