ViniVideWiki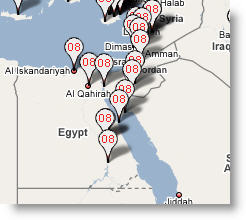 I was reading the excellent Web2.0 Travel Blog and came across this fascinating website that you might like to take a look at our even add your own contribution.
As it says on Web2.0travelsites…

"VeniVidiWiki.eu is a Google map wiki mashup for attractions around the world. Anyone can add a POI (point of interest) to the map and provide as much as possible of the following information:
* Name of place/poi
* Category – those shown above are listed as POI with Video — so they all have a video link; the full list of categories is listed on the left
* Description
* Website, and
* Photo and/or Video links"
If you visit the site, search for "Egypt" in the drop down menu and then use the navigation tool to scroll down so that the Egypt part of the map shows up you'll be able to click on each map-marker and it will open up into a video or other useful resource.
I thought it was excellent and, as I mentioned above, you might want to add your own contribution.