Visiting Aswan – Continued
After our wonderful lunch and cruise on board the superb MS Misr Nile cruise ship we took the water-taxi back to our hotel, the Movenpick Aswan as we had been invited to watch the sun go down over the Nile from the Panorama Bar which is located at the top of the tower at the Movenpick.
We took the opportunity to take a stroll around the grounds of the Movenpick and walked over to the other side of the island and the hotel which overlooks Kitchener's Island.
Kitchener's Island, as I have mentioned before, is normally part of your Nile cruise itinerary and is a chance to relax as you stroll through the gardens and observe the exotic plants and birdlife.
No matter which room you are offered at the Movenpick Aswan you will have wonderful views. One side overlooking Kitchener s Island and the other the city of Aswan itself. Both vistas are beautiful at night too as Kitchener's Island has had lights installed all along its' edge which light up the Island and create a wonderfully atmospheric night-scape.
Just before 5.00pm we took the lift up the tower to the Panorama Bar where the management had generously provided a buffet and drinks and then found some comfortable seats to watch the sun go down over the Nile.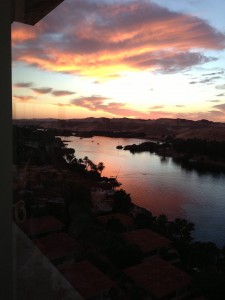 AÂ  lot of hotels that are located on the banks of the Nile, both in Aswan and Luxor make a point of celebrating sundown and often accompany the setting of the sun by playing beautiful and evocative classical music. This gives the whole moment a really special feel.
The Maritim Jolie Ville and the Sofitel Karnak certainly do this but you will find most hotels celebrate the setting sun.
Just before the sun started to finally set I took the opportunity to use my iPhone5 to capture some panoramic photographs of Aswan city as well as the view of Kitchener's Island. Then, as the sun went down I took as many shots as I could.
I've added these to this post, or as many as I could, and hopefully they'll give you a good impression of what a beautiful sight it is. However you can only get a true impression by experiencing it yourself.
If you can afford the time I would really recommend that you take a 7 night Nile cruise and follow it up with 3 nights in Aswan as it is truly a beautiful location.
In my next post I'll tell you about our trip up to Cairo for our last 3 days in Egypt.