Visiting Cairo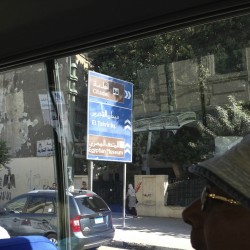 As we reached Tahir Square it felt strange to actually be driving around a location that had witnessed really world-changing events. Certainly for the Egyptian people but also it was a catalyst for change in other countries.
Of course we had watched the events unfold on TV but now we were here it was different. Probably because you realised that the square is normally just a very busy, central hub of Cairo city centre and of course it looks totally different. There were cars everywhere and people going around their daily business. You also saw that there were nearby businesses, shops, hotels and apartments that must all have been very heavily affected during the months of the Revolution.
We drove to the other side of the square and our driver pulled over to allow us to jump out near to the entrance to the Egyptian Museum.
I hadn't' realised that the Museum is actually situated on one side of Tahir Square. It's next to what is left of the National Headquarters of the previous ruling party. Mubarak's party.
I say "what is left" as it had been set alight during the demonstrations. A huge multi-storied office building that was now covered in smoke stains without windows. I'm not sure how long they will leave it like that. Perhaps it's been left as a marker of what took place during the Revolution. However, I would imagine it will eventually be demolished and a new building will take it's place.
During the demonstrations I know that there were fears that the Egyptian Museum would be ransacked or destroyed but I think just a few things were stolen before staff and the authorities were able to guard the museum from looters or rioters. I can certainly see why the Museum staff were worried as the demonstrations would have taken place right outside the doors. It must have been a very tense time.
As we queued to buy our tickets for the Museum it was great to see so many visitors and tourists from all over the world who had made the decision to visit Egypt and Cairo. There were Americans, Spaniards, Italians, Russians, Japanese, Chinese, French, Scandinavians. So many nationalities all visiting Cairo.
It was also great to meet so many Egyptians who took the trouble to thank us and the other visitors for coming to Egypt. The Egyptian people that we met were courteous, very friendly and they went out of their way to thank us for being there.
If you are contemplating taking a Nile Cruise and Cairo trip soon then I wouldnt' hesitate.
In my next post I'll tell you more about our visit to the Egyptian Museum.