Visiting Cairo – Our last day
Well, we'd come to the end of our visit and, as always, we'd had a wonderful time. We'd visited Luxor, Aswan and we'd finished up in Cairo.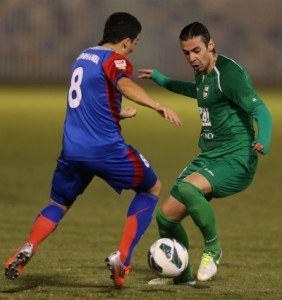 We'd met some great people, all of them so happy that we'd come to Egypt when many others were still staying away due to some mistaken impression that there were continuous demonstrations and problems. During our whole week's visit, no matter where we were, we'd met only friendliness and warmth from everyone we met. We'd not seen any disruption or any demonstrations and it's clear that almost all Egyptians are simply living their lives as normal and are looking forward to getting the country back on it's feet. One way we can help with that is to continue visiting this wonderful country.
On our last evening we were taken, by an Egyptian friend of ours, Medo, to watch the final of the equivalent of the Middle East "Champions League" that featured one of Cairo's favourite football teams Al Ahli, of whom Medo was a massive supporter. They were playing a team from Tunisia, in Tunisia, but the final was being televised on Egyptian TV and Medo took us to the rooftop of a bar right beside the Movenpick Pyramids Hotel, where we were staying to watch the match.
I'm not sure that Barbara, who's definitely not interested in football, appreciated it but I had a wonderful time. I was watching an excellent game of football in the open air, having a nice cold beer with a bunch of excited fans and all the while we had the world-famous Pyramids just over our shoulder, lit up against the dark evening sky. Amazing.
Luckily Al Ahli won the final and Medo and the other fans on the roof with us were delighted. Beers all round. Wonderful.
Winning the final meant that Al Ahli were now going to be finalists in the World Club of The Year finals in Tokyo playing against other championship teams from around the world including Chelsea. So our hosts were delighted.
To celebrate Medo decided to take us to have a mint tea and shisha pipe at an open-air cafe located on a hillside overlooking the city of Cairo and so we grabbed a cab and made our way there. Our journey took us through the middle of Cairo and Tahir Square which was full of Al Ahli supporters in cars trailing the clubs flags and scarves with the delirious supporters hanging out of the windows singing and cheering at the tops of their voices with car horns honking in competition. It was great sight to see. Just like we've seen before on television back home.
Eventually, after climbing higher and higher, we reached what I can only think is the highest point in the city. It was almost a cliff rather than a hillside and the open-air cafe, which consisted of chairs and tables right at the edge of the cliff, offered fabulous views of the whole of Cairo with it's twinkling lights right in front of us. We also seemed to be right under the flight path of Cairo Airport so every now and then there would be a mighty roar as a departing jet flew over our heads and out into the night. Really a surreal experience.
Medo, who likes to enjoy a shisha pipe, ordered mint tea for Barbara and I and we sat talking with Medo and some other people for an hour or so just taking in the atmosphere and the sight of Cairo at night stretching out in front of us.
We'd had a great week and we were taking home with us some new memories and experiences of Egypt. We'd met some new friends and revisited some old ones.
We'd taken a short Nile cruise, we'd visited some wonderful hotels and we'd taken in the wonders of the Pyramids and other ancient temples and sites.
Little did we know that we'd be back in Egypt only 3 weeks later when we decided to spend Christmas with the family at Makadi Bay. But more of that in the next few days.