"Walking The Nile" – Tonight on Channel 4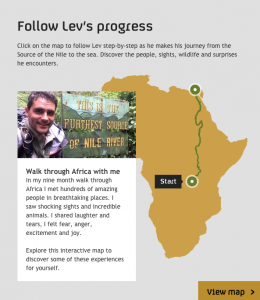 Channel 4 in the UK begins a 4 part series this evening (4th Jan2015) entitled "Walking The Nile" which follows Levison Wood's trek along the Nile. Starting at it's source in Rwanda's highland rainforests right through to it's end on Egypt's Mediterranean coast.
Apparently it took 9 months to complete, approximately seven million steps!
It promises, according to the preview write-up, to be an eventful journey with a number of not so pleasant events. I imagine it will be very different from Joanna Lumley's Nile , a journey of a similar nature that she undertook.
Joanna Lumley's journey wasn't' as basic and rough as this sounds and included a Nile cruise. Levison Wood's is all on foot.
I'm really looking forward to following the series which starts at 9.00pm tonight.