Alexander The Great Nile Cruise…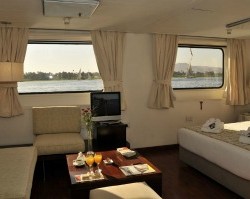 The most luxurious Nile Cruise ship I have ever set foot on is the superb Alexander The Great. More like a luxury motor yacht than a Nile Cruise ship the Alexander is top of the line from head to foot.
Superb, individually designed cabins, beautiful public rooms, wonderful cuisine and excellent, professional and friendly crew the Alexander The Great is really the ideal vessel the cruise the Nile.
As with all things, you "get what you pay for" however at this moment we have a wonderful offer where you can save up to £1000 per couple on selected dates.
Here are the details: Continue reading "Save up to £1000 per couple on Luxury Nile Cruise"