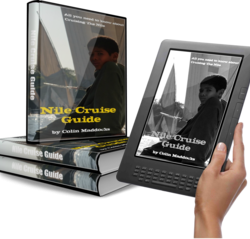 Would you like to know more about the whole about cruising The Nile before you make your decision on whether to book?
Perhaps you are not too sure about the Nile cruise ship you should choose?
Whether or not to choose a full board or all inclusive board option?
Perhaps you are not too sure what you will see whilst you are cruising The Nile and what's included in your excursion programme?
Or uncertain about what optional excursions you should choose?
If you would like to know all about cruising The Nile before you make your decision then why not read our Nile Cruise Guide?
We wrote the guide to try and give readers as much information as we can about this wonderful travel experience and although it was written a number of years ago the basic information, facts and figures remain the same.
Reading the guide will tell you much more about:
Why you should take a Nile cruise
What to expect from your cruise
What a Nile cruise is "really" like
What to take with you
What clothing to wear
What you will see
What are the choices available for a "Nile Cruise & Stay Holiday"
Should I upgrade to a Luxury Nile cruise
Nile cruise "Tips & Hints"
and much more…
There are two versions of the Nile Cruise Guide.
One you can access right here on the website and read online.
The other you can download from Amazon, as an eBook, to read on your Kindle.
To access the online Nile Cruise Guide simply complete this simple form and as soon as you do so you will receive an email containing the link to the guide.
The email will also include a link to Amazon, where you will be able to download a copy for your Kindle.
To comply with Amazon regulations we have to charge a nominal price of 99p for you to download the guide, however, if you are "Kindle Unlimited" subscribers, you can download the guide for free.
Depending on your Kindle player version and also your speaker set up you should be able to listen to some original music to help evoke the spirit and atmosphere of Ancient Egypt.
The three pieces you can hear are:
Anthem to the Rising Moon
Invocation of the Great Pyramid Of Giza
Anthem to the Rising Moon
If you enjoy the pieces you can find out more about the music and its composer, Jeff Goodman, by visiting his fascinating website at:
http://shelterofclearlight.com/AncientEgyptianMusic.aspx
You can also purchase Jeff's Ancient Egypt compositions at:
http://itunes.apple.com/us/artist/jeffrey-goodman/id260647048
Please Note:
In exchange for you downloading our Free Nile Cruise Guide you will be giving us your email address and every now and then we will send you our email newsletter containing informative information about Cruising the Nile and/or the latest special offers that we have.
…if you feel strongly about receiving emails from us you should ensure that when you receive our first email that you use the simple "unsubscribe" link at the end of each email.
Or, as we do, if you don't want to read that particular email you can simply delete it. It only takes a second. Who knows? You might enjoy the following one.
We really want you to be able to enjoy our Guide and we hope you find it really useful AND of course we hope that you will eventually book your Nile Cruise with ourselves.
But if you decide that you no longer wish to receive our email Newsletters then please simply "unsubscribe".