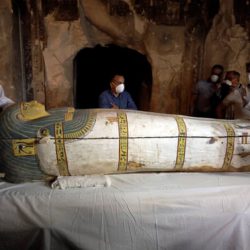 El-Assasif is a necropolis near Luxor on the West Bank at Thebes, Egypt, Upper Egypt. It is located in the dry bay that leads up to Deir el-Bahri and south of the necropolis of Dra' Abu el-Naga'.
El-Assasif contains burials from the 18th, 25th and 26th dynasties of ancient Egypt, covering the period c. 1550 to 525 BC across all three dynasties.
In October 2019, 30 coffins were uncovered and presented, dating back to the 22nd dynasty.
You can read more about the Al-Assasif necropolis here: https://bit.ly/2DZs3w5
If you would like to know more about cruising The Nile and all of the wonders and treasures you will see on a Nile cruise please visit my dedicated Nile cruise website, www.nile-cruises-4u.co.uk or call me at any time on Freephone 0808 1089 100 and I'll be more than happy to tell you about this wonderful travel experience. Barbara