I've mentioned before that we can organise "luxury Nile cruises" for you using a whole selection of ships.
The most prestigious Nile Cruise ship is without doubt the "Oberoi Zahra", which offers you a fantastic experience and level of luxury but which is echoed in the prices you will pay. It really is "top of the range" in luxury but also in price. But for a truly unforgetable travel experince the Oberoi Zahra is unbeatable.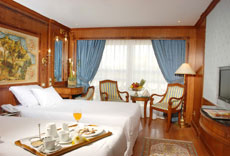 However, if you would like to enjoy a luxury Nile Cruise without paying Oberoi Zahra prices then I would recommend the "Sonesta St. George".
The Sonesta St. George is a deluxe Nile Cruise ship that has an excellent reputation and was once regarding as one of the best ships cruising the Nile until she was overtaken by ships such as the Zahra. But she is still a beautiful ship with excellent standards and the price difference between the two is substantial.
So if you would like to enjoy a luxury Nile Cruise but dont' want to pay Oberoi Zahra prices why not consider the Sonesta St. George?
For details of prices and availability of both ships please call either Barbara or myself, Colin, on Freephone 0808 1089 100.