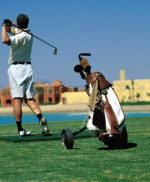 If your taking one of our Nile Cruise and Stay holidays in El Gouna and your a golfer why not let us book you in for a round at the El Gouna 18 hole championship golf course?
The opportunity to play golf all year round will be too much too miss for serious golfers visiting El Gouna.
After what we're sure will be a wonderful time cruising the Nile why not take the opportunity to enjoy a round of golf in a simply wonderful location?
We can arrange golf packages in El Gouna if you would like to be certain before your arrival.
Simply call us on our Freephone number 0808 1089 100 and we'll find out the costs of what your looking for.