Nile Cruise Reviews
As you can imagine we are asked a lot about the little details about the various Nile cruise ships that we arrange cruises on and we do our best to be as detailed and honest as possible in our descriptions.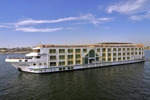 However one of the things we recommend is to try and access as many Nile Cruise reviews as possible to try and get a "feel" for each Nile cruise ship from people who have actually sailed on them.
We have a Nile Cruise Testimonial page where we add as many client testimonials as possible. We did have 52 Nile cruise testimonials showing on the page but we our website has been hacked on two different occasions recently and the testimonials were deleted by the hackers so we are adding them back again one by one. I think at the moment there are 15 testimonials showing on the page.
However, once you have read our Nile cruises testimonials page where do you go to next?
I would suggest that a visit to Trip Advisor would be useful as there are a number of Nile Cruise reviews on the site that will offer other opinions and views. You can find more details of Trip Advisors Nile Cruise reviews here: http://www.tripadvisor.co.uk/Travel-g294200-c95881/Egypt:Cruising.The.Nile.html
You should also do a Google search for the search term "Nile cruise ships" and read some of the descriptions and reviews on the websites that come up in the search.
Finally, after getting some background information by carrying out some of the above suggestions you should try and find a Nile cruise specialist who has sailed on a selection of ships and ask for their suggestions. Remember it is in their interests to be honest with their opinions and suggestions as they have their reputations to look after.
Please feel free to call, without any obligation, either Barbara or myself if you would like to know more about any Nile cruise ship as we do have a wealth of experience.