Late last week we were advised that the Foreign and Commonwealth Office (the FCO) had removed their advice against all but essential travel to Luxor which meant that Nile cruises were able to resume from the 2nd of December.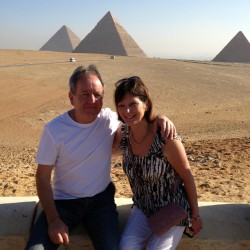 Great!
Well yesterday we were notified that the FCO no longer advise against all but essential travel to Cairo Governate and Greater Cairo including Giza 6th October City and the Giza Pyramids (which are part of the Giza Governate).
More great news!
So that means UK travellers can once again visit Cairo to experience visiting one of the last remaining Wonders of The World as well as the many, many other unforgettable experiences that a visit to Cairo includes.
As I've mentioned on our Nile Cruises 4u Facebook page we were actually in Egypt visiting Cairo, Luxor and Aswan this time last year and it was one of our most unforgettable visits to that wonderful country. We had the time of our lives in Cairo being guided by our friend Medo and I can really recommend that if you get the chance you should go there.
And now, thanks to the lifting of the FCO restrictions, you can.