When Barbara and I were in Egypt two weeks ago we visited four excellent hotels in Luxor that are offering great rates at the moment.Â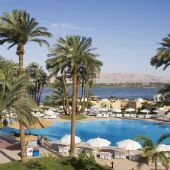 They include the Sofitel Karnak, which is situated in a lovely location on the banks of the Nile near Karnak Temple. The Sofitel has wonderful facilities and beautiful grounds including a fabulous swimming pool location. A great hotel for families too.
Then we visited the unique Maritim Jolie Ville which is located on an island on the Nile and is a very tranquil location for a week's "chill-out". Again the facilities available are superb including a fantastic gym and spa centre with yoga and pilates classes offered.  The views across the Nile are to die for and they have a daily "watching the sun go down over the Nile" highlight each evening which plays out to the accompaniment of beautiful classical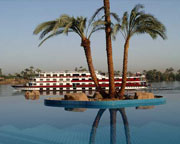 music.  A unique location with excellent facilities.
Our own favourite is the very well-known Sonesta St. George which again is in a superb location on the banks of the Nile and which has a great range of room types to offer including a number of absolutely stunning suites that would make your eyes water. Friendly staff and excellent food offerings would make a week here a fabulous experience.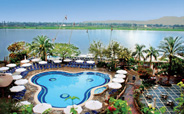 Finally we visted the world-famous Old Winter Palace which boasts a Royal Suite that is usually occupied by Royalty, Politicians and movie-stars.  The atmosphere is really "old-colonial" but there is also a new building within the beautiful gardens that offers excellent accommodation within a really tranquil setting.  They offer a superb open-air dining experience around the stunning pool area.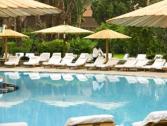 If we could get away at the moment and wanted a week to simply relax in tranquil surroundings then I would be off to Luxor like a shot.
If you would like to find out about the availability and prices of holidays in Luxor please call us on our FREEPHONE 0808 1089 100 number.