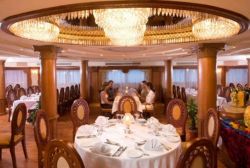 This morning we received a lovely testimonial from two of our clients who travelled on a "Nile Cruise and Stay" holiday on the MS Stephanie in July and then spent a further week at the Sunrise Garden Beach Hotel in Hurghada.
You can read their thoughts below and read more on our Nile Cruise Testimonials page on the main www.nile-cruises-4u.co.uk website:
"Dear Barbara,
Nearly a week since we returned from a wonderful holiday – thank you very much for your help and advice.
Cairo was great, the perfect hotel and the guide on our Giza and Cairo tours was excellent.
All the connections and pick ups went perfectlt.
The Nile cruise on the MS Stephanie was fantastic, frankly I dont' think we got "templed out" but it was certainly very hot.  The guide, "Aymen" was as passionate about his subject as he was interesting and funny.  The boat was great.
The last week at the Sunrise Garden Beach at Hurghada was also very good, the facilities are really good, the gym was well equipped and was needed given the "full board" excesses!  Pools were good and beacg great, bars everywhere.  In particular their "A la Carte" restaurants are really worth booking but we didnt' know to book straight away as they cost no extra to book so people book and then dont' turn up.  Also worth noting is that guests can also book the restaurants at the "Sunrise Mamlouk" next door which doubles the opportunity.
Once again many thanks.  I have already given your details to two colleagues this week and would recommend you to anyone holidaying in Egypt.
We will be going back as our other two "kids", (20 & 18) must see the sights as well.
Regards,
Dave & Claire
August 2010″