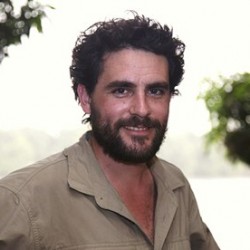 If you watched last night's initial episode of Channel 4's "Walking The Nile" you'll know now that amazingly the Nile begins as a tiny trickle in upper Rwanda.
In fact it's so insignificant that it's almost impossible to believe that the mighty River Nile, the world's longest river starts that way.
Of course it's not long before the tiny trickle becomes a substantial and fast flowing body of water but it was fascinating to see "Levison Wood" start his trek at the very source.
The programme was real insight into the trials and tribulations of how hard a challenge the journey must have been and the hazards and dangers he faced. In this firt episode alone he and his travelling companion where robbed on a desolate road and a fellow traveller that they met up with and joined for a short time died of heatstroke. A real tradgedy for his family and an episode that must have made Levison question the wisdom of the challenge.
There are three more episodes to come and I think it may well be episode three before they reach Egypt and the section of the Nile where Nile cruises operate, between Luxor and Aswan. However as an adventure-travel series I think it's proving to be an excellent "watch". If you missed the first episode you can watch it on Channel 4's On Demand service.